Featured Property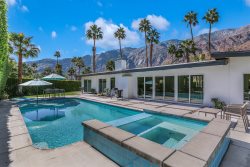 Las Palmas Alexander
Locally Owned and Operated
Our love for vacation rentals and passion for serving our customers shows in every interaction. We care for our homes, our guests, and our partners with a dedication to great hospitality. Proudly Serving Greater Palm Springs.

From our team at Poolside Vacation Rentals: thank you! It has been our pleasure serving the community and establishing a professional reputation that speaks to providing great experiences for our customers.

Palm Springs Vacation Rental Agency: Poolside Vacation Rentals Inc.
Offering the leading selection of the best quality Palm Springs Area Vacation Rentals, pool homes, condos, luxury and celebrity homes and world class attentive service.






Local. Known. Trusted.
As a local owned and operated business, we value our relationships. As your host, partner, neighbor, and friend, we care about the service we provide, the experience you have while working with us, and the great reputation for which we strive. Please know when you work with us, you support the difference that makes Palm Springs so special. We are a community, and people are the difference that make the difference. We look forward to meeting you and welcoming you to Palm Springs, California
Poolside Vacation Rentals: Vacation Home Management
"Experience the difference Poolside! As a family owned business serving our community, we understand that our most valuable asset is you."
[email protected]
(760)800-3149



Guest Reviews - Google!




"I've been working with these folks for many years and have had the pleasure of getting to know the team and family at Poolside Vacation Rentals. Their professionalism, knowledge of the industry, responsiveness and results are everything you want in a vacation rental partner. From investment strategies to fixing our kitchen sink they can be counted on. If hard working, reliable vacation home managers are what you are looking for, then give this company a call. A great company run by great people. Looking forward to future success with reliable partners. Thank you, Poolside Vacation Rentals!"
Available Properties
Loading Available Properties
Flexible Dates? View other Properties close to your Date Range.
Available
Unavailable
Check-in
Check-out
Not finding what you're looking for?